Digital investment rising, with cost and efficiency driving company spend
Digitalization in the oil and gas sector receives strong focus from a major report from consultancy EY. According the report, New technology can lead the way, but do you know where you're headed?, the vast majority of 100 surveyed global oil and gas executives said they would step up their investment in digital over the next two years. Fully 89% of organizations in the survey said their investment in digital would rise in this way.
The EY report, unveiled in January, said operational operational efficiency remains a top priority owing to a legacy of falling prices in recent years. Forty-two percent of survey respondents say their primary motivation for investment in digital is to improve efficiency, while 55% say that their priority for technology investment will be focused around operational improvement. However, less than a quarter of respondents saw digital in more ambitious terms; just 23% of the sample said that their main impetus for investment is to expand their suite of digital capabilities.
According to the report, robotic process automation (RPA) and advanced analytics are expected to have the most significant impact on the industry over the next five years — both cited by 25% of executives respectively. Most survey respondents (75%) say they are already implementing RPA, and 87% indicate that they are using advanced analytics as they look to use data to boost productivity. Conversely, the Industrial Internet of Things (IIoT) is only being implemented by 19% of respondents. While 70% say they plan to adopt IIoT in the next 18 months, 20% of respondents believe it carries the most risk in light of the associated cybersecurity threat.
The report highlights some major hurdles that the industry faces in embedding digital technologies and overcoming silo mentalities. Less than a third of respondents (31%) believe their digital investment vision is "highly aligned" with the views of other senior management colleagues. And 41% say reaching agreement on a digital road map from executive teams and the board of directors is a key strategic problem. On average, respondents allocate nearly half (48%) of their digital technology investment to outsourcing, while 36% of organizations surveyed say their greatest operational barrier is around integrating new tools with existing solutions and systems.
Ashtead strikes sensor distribution deal with 4Subsea
Global subsea equipment solutions specialist, Ashtead Technology announced on 23rd January it had entered into a global strategic partnership with Norway's 4Subsea. Under the deal, 4Subsea's autonomous, retrofittable sensors will be made available to the global oil and gas industry via Ashtead Technology. Additionally, 4Subsea will explore utilizing Ashtead's acoustic sensors for further developing their services offering to the market.
According to the terms of the agreement, Ashtead will further enhance its inspection, maintenance and repair (IMR) services by adding 4Subsea's sensors to its portfolio and gaining access to 4Subsea's domain experts within subsea production, well intervention and drilling. 4Subsea aims to strengthen its position in the global sensor market with hardware and digital services delivery through Ashtead's extensive sales and distribution network including facilities in Aberdeen, Abu Dhabi, Halifax, Houston and Singapore.
4Subsea is a provider of technology and services that help operators maintain production from subsea oil and gas fields and offshore wind farms. By combining expert engineering competence, operational experience and digitalised decision support, 4Subsea ensures the integrity of subsea assets from the reservoir to deck.
Allan Pirie, CEO of Ashtead, commented: "Our customers now have access to a leading innovator in offshore asset monitoring and integrity solutions. Adding 4Subsea's autonomous sensor technology and services to our existing capabilities means we can now offer a comprehensive monitoring and integrity management service to support the performance and life extension of critical infrastructure."
4Subsea's state of the art sensor technology
Source: 4Subsea
Aker BP claims first Norwegian control room
Aker BP announced on 16th January that it had become the first company on the Norwegian Continental Shelf to operate a staffed platform from an onshore control room. The Ivar Aasen field in the northern part of the North Sea is now operated from Aker BP's offices at Trondheim on the Norwegian mainland.
The control room is key to all activity on the platform. In addition to monitoring facilities, production, equipment and following up everything that takes place on the field, the control room plays an important role in activating work permits, and for the arrival of vessels and helicopters within the 500-metre zone.
Ivar Aasen was constructed with two identical control rooms – on the platform and in Trondheim. The plan has always been to move the control room to land. Other offshore staffing on the field will remain as before.
In October 2018, Aker BP announced that it has signed a ventures cooperation agreement with BP to explore possible areas of cooperation in the development and deployment of advanced technologies in their businesses.

Through their planned strategic alliance, BP and Aker BP intend to explore potential venture capital investments targeting technology and innovation improvements, including developments in digital twins, advanced seismic techniques and processing, and subsea and robot technology. The alliance is also expected to include identifying and evaluating innovations which could improve the environmental performance of offshore oil and gas production.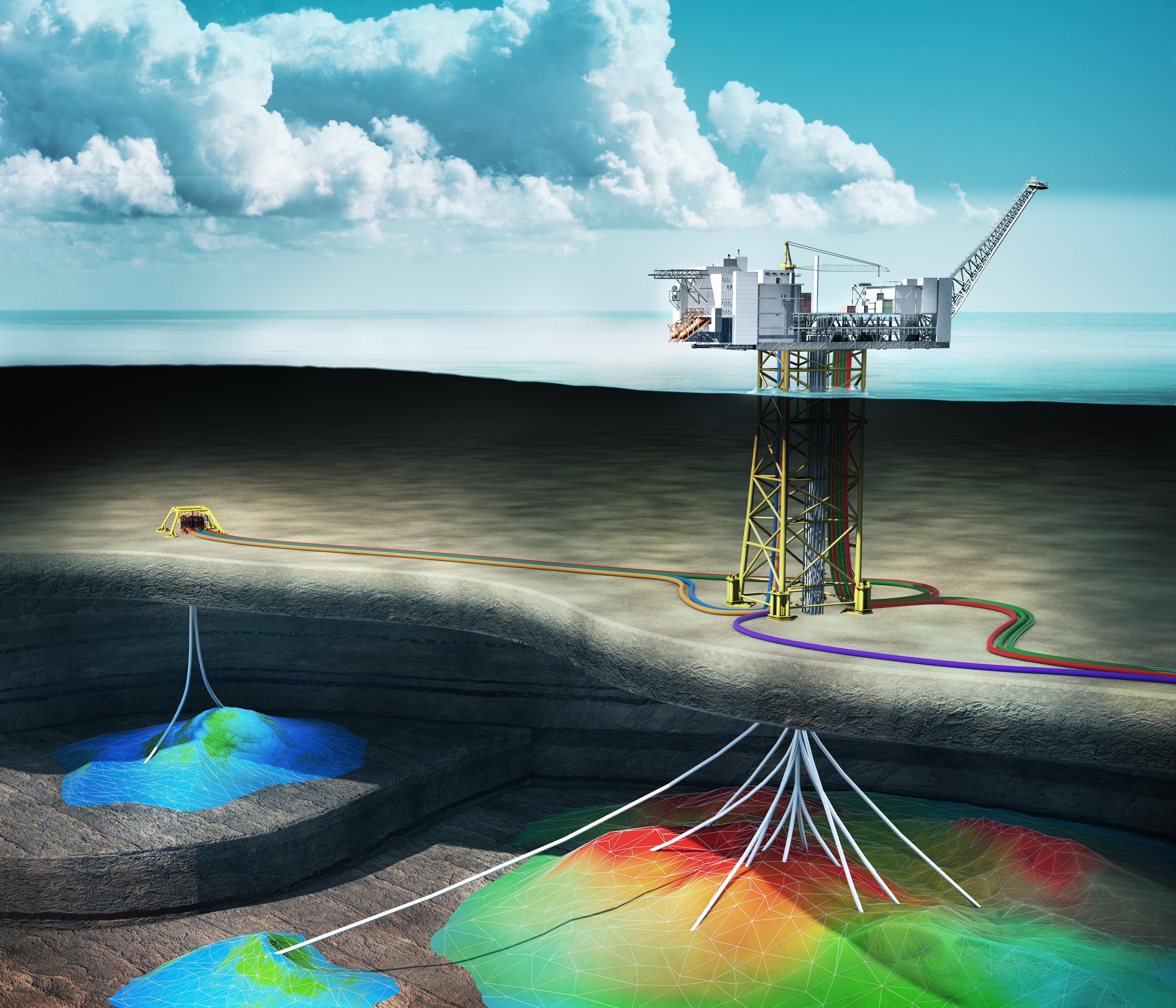 A Trondheim-based control room will operate platforms at the Ivar Aasen field
Source: Aker BP

NOV in wired drillpipe deal with Equinor
National Oilwell Varco announced in December the signing of a frame agreement with Norway's Equinor for the provision of IntelliServ Wired Drillpipe to outfit the company's global fleet of offshore drilling rigs. This agreement follows recent field deployments of version two of Wired Drillpipe that in the company's words demonstrated the value of high-speed telemetry in multiple applications across their fleet of working rigs. The initial agreement is for three and a half years with five, two-year extensions.
"We are delighted to see accelerated adoption of NOV's proprietary Wired Drillpipe in the global drilling market," commented Clay Williams, chairman, President, and CEO. "As the industry places further emphasis on drilling automation and optimization, high-speed telemetry, which allows data to be transferred instantaneously from downhole to surface operations, is becoming an increasingly critical enabling technology. Partnering with a major national oil company interested in standardizing their operations with Wired Drillpipe is a testament to the value it brings versus conventional drillpipe."
Version two of IntelliServ Wired Drillpipe has evolved to deliver even higher uptime performance and was designed to be easier to handle in demanding drilling operations. The agreement, which also includes eVolveT Optimization & Automation Services, highlights NOV's continued investment in the design, development, and provision of a broad portfolio of products and services that enable downhole and surface drilling automation.
Xage secures Saudi funding
Silicon Valley-based Xage Security has announced an investment from Saudi Aramco Energy Ventures (SAEV) focused on supporting IIoT capabilities. A company statement released on 28 December claimed the first and only blockchain-protected security platform for IIOT, Xage's security fabric was creating the essential trusted foundation for in-field interactions between machines, people, apps and data. It said the recent funding and associated executive hire would drive the company's continued growth in the energy sector, enabling distributed IIOT deployments across the oil and gas sector.
"SAEV invests in technologies and companies that represent the future of energy, and as operational networks become more connected, there's an opportunity to improve asset management, production, and efficiency," said Jim Sledzik of SAEV in a statement. "Xage has developed an innovative approach to distributed interactions and industrial security for IIOT, and we are proud to partner with them, as they continue to grow and contribute to the evolution of the energy sector."
Digital investment is rising; Ashtead in sensor deal with 4Subsea; Aker BP control room begins
Upstream Intelligence is a trading name of FCBI Energy Ltd.
Registered in England and Wales no.4388971. Registered address 7-9 Fashion Street, London, E1 6PX, UK